R&R Printing Plus Inc.
208 St. Andrew St. W.
Fergus, ON N2T 2S7
(Downtown, across Scotia Bank) Phone: 519-843-1711
Fax: 519-843-1638
E-mail: [email protected]
R&R Printing Plus Inc.
208 St. Andrew St. W.
Fergus, ON N2T 2S7
(Downtown, across Scotia Bank)
Phone: 519-843-1711
Fax: 519-843-1638
E-mail: [email protected]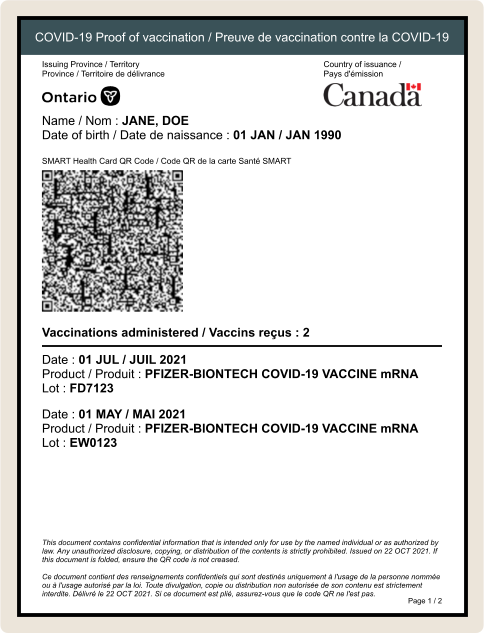 Vaccination Cards
Yes!! We can provide you with laminated, credit card-sized Proof of Vaccination cards.
Because of the size retrains of the QR-code they are now all double-sided.
Cost is $ 3.30 plus tax.
We run these cards between 3 – 4 p.m. every day:
Proof of Vaccination printouts that are brought in before 3 p.m. can be picked up after 4 p.m. the same day.
Full-service Printing
Are you looking for high quality printing to make the best possible impressions? Do you want to work with a locally owned and operated printing company?
Look no further than R&R Printing Plus Inc.. We have been servicing the Fergus, Elora, Arthur and surrounding communities for over 50 years! Under new management since 2004, R&R Printing has been transformed into a modern, full digital printing company with press capability, large format printing and laminating, banners, signs & decals, binding, and more.
But we are not just for big, commercial print jobs. You can also come to us for your black & white or colour copies, scanning, or faxing.
We use state of the art technology and have knowledgeable staff that provides outstanding and personalized customer service. Come and visit us in downtown Fergus, and discover our commitment to excellence and attention to detail for yourself.
You can find us between the library and the Fountain Head Health Food Store/Red Door Café.
We look forward to seeing you in our store!
Our Products and Services: